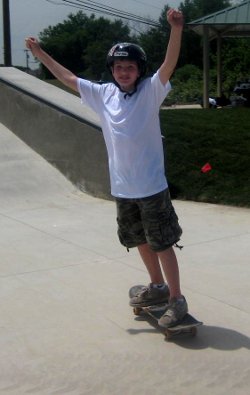 Skateboarders and Scouts may seem at first like completely different groups of kids. Scouts are seen as courteous, obedient, cheerful, and clean, while skaters have been typecast as disrespectful, rebellious loners who wear dirty, ripped clothing and hang out in shady areas.
Take a closer look at skateboarding, though, and you'll see respectful young people who help one another, take care of their surroundings and are engaging in healthful outdoor activities. They learn and practice skills, then try, fail, try, fail, try and succeed.  Sounds a lot more like Scouting now, doesn't it?
Skateboarding and Scouting are coming a lot closer, with the introduction of the Skateboarding belt loop and sports pin in Cub Scouts a couple years ago, and now with the construction of the world-class skatepark at the Summit Bechtel Reserve in West Virginia and the introduction of skateboarding as an activity at the 2013 Jamboree.
Furthermore, look at the skater demographic: most often they are boys, aged anywhere from, oh, six to maybe 16 or 17 (though many continue or even begin skateboarding well into adulthood) who are seeking to have fun with others like themselves and improve their skills in the outdoors. Sound a bit familiar? You could substitute "Scout" for "skater" in that sentence and it would still apply. If you look closely, you probably even have a few skaters in your pack or troop.
A recent story by Bill Wundram in the Quad City Times tells of lessons learned by Pennie Kellenberger, director of a community faith-based youth center in Davenport, Iowa, who helped chaperone  a group of skateboarders from the center's skateboarding ministry on a tour of skateparks in neighboring states. She finds "a quiet wisdom" in skaters, and that skaters revel in practicing and mastering tricks, just as Scouts practice and use outdoor skills. In brief, her five lessons learned, along with parallels to our movement:
Support your friends (A Scout is Loyal, A Scout is Kind)
If you can't land a trick, try again (A Scout is Cheerful)
Take your turn on the ramps (A Scout is Courteous)
Life is full of hard knocks (A Scout is Brave)
Respect is earned by giving time to others (A Scout is Friendly, A Scout is Helpful)
Another parallel is how passionate skaters are about improving their surroundings so they can enjoy their sport and provide a safe place for others to do so as well. Â Just as Scouts and Scouters undertake service projects like trail development and parks improvement in our communities, so do skaters band together to help build and maintain skateparks so more people can enjoy a safe, healthful and fun outdoor activity. It's happening in towns and cities all across the country.
We in Scouting can help leverage that enthusiasm by realizing that our aims and demographic are similar and by working to include skateboarding in our plans. A Cub Scout pack could team up with a skate shop to put on a Skateboarding belt-loop clinic; a Boy Scout troop could organize a work and play day at a local outdoor skatepark, doing fix-up work followed by a skate session. (Maybe we'll even pick up a few new members in the process.) By embracing skateboarding's fun and enthusiasm, we can improve both activities and build mutually-beneficial alliances that enhance the communities in which we live and play.
Photo: Rob Woelkers, Pluskateboarding, Farmington, Mich.
This post
first appeared on
Bobwhite Blather.