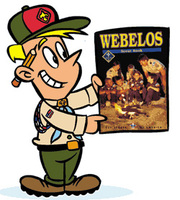 Update: This post was written before the 2015 changes to the Webelos program took effect, but the information is still valid. Just substitute the equivalent program changes for the activity badges I mention below.
Recently, while I was working on another article, I was poking around the excellent website of Troop 97 in Ft. Collins, Colo., and I came across their comprehensive list of secrets of success of great Webelos leaders. If you have been a Webelos leader for a year or so now, you realize that the Webelos program is different from the rest of Cub Scouting (as we discussed here earlier), as it is less geared toward parent/son activities and more aimed at developing these Cub Scouts to soon become Boy Scouts.
If you were a Bear leader last year and are starting out on Webelos den leadership, their suggestions are a terrific way to get off on the right foot. Suggestions like going to training (or taking it online), getting outdoors by attending Council Webelos camp as well as planning your own den campouts, and hooking up with the Boy Scout troops in your area are must-do steps to ensure your boys have fun and successfully become Boy Scouts in about a year and a half (yes, remember they usually cross over in the winter of their 5th grade year).
In addition to the tips on Troop 97's site, here are a few suggestions based on my experience as a Webelos leader and trainer.
First-year Webelos leaders:
Since your boys' destination (and yours) is Boy Scouts, take the online Boy Scout Leader Fast Start training. You won't be running your Webelos den the way a Boy Scout troop runs, of course, but it will help you to understand what you'll see going on when you visit Boy Scout troop meetings and events.
I think this one is key: Get yourself a Den Chief as soon as possible. A Den Chief is an older Boy Scout who helps you in the den. He is a member of your leadership team and brings exposure to Boy Scouts into your den, as well as being another helping hand. He's mature enough that he's not just another boy to supervise (eighth grade is a good age), but young enough that he can relate to your Webelos scouts. Ask your Cubmaster to contact one of the Scoutmasters in your area for a recommendation.
If you aren't already meeting regularly with your den over the summer, plan a meeting or two in August for any of your Scouts who can attend. Start a regular schedule early in September, before your pack's recruiting night or pack meeting. Even though summer is starting to wind down in many parts of the country, you still have time to work on the outdoor-related activity badges in the physical skills and outdoors groups, such as Aquanaut, Outdoorsman, Forester and Sportsman.
Second-year Webelos leaders:
Confirm that your Den Chief from last year can stay with your den. If not, ask for another referral. You need a Den Chief now even more than you did last year, since your boys are going to be preparing to become Boy Scouts, including learning the Scout Oath and Law and many more things that a Den Chief can teach.
When you meet with your parents, emphasize to them that one of the purposes of Cub Scouting is to prepare the boys for Boy Scouts. They will be finishing Webelos sometime in winter and are expected to cross over to a troop. Don't ever allude to the possibility that their Scouting could end with Webelos. The assumption should always be that the boys want to continue the adventure you've prepared them for, and the parents should realize that they shouldn't deprive their sons of this great experience.
Also point out some of the differences between Cub Scouts and Boy Scouts, especially the adult role in a troop. Many a potential Boy Scout has been lost at crossover because the parents were simply too worn out from everything they did for the pack, and they assumed that a similar commitment was necessary when their son joined a troop. Emphasize that because a troop is led by the boys, not the adults, the role of the parent shifts to supporting their son in his Scouting activities, like driving to and from troop meetings and an occasional campout. If a parent wants to get involved with the troop, there are adult opportunities, but it's usually not expected that every parent will need to do something for the troop.
I'll have a few more pointers in the next post.
What other advice can you offer to help Webelos leaders succeed? Please leave a comment or get in touch on the Contact Me page.
This post
first appeared on
Bobwhite Blather.